Imagine using a grey handbag on a cold, grey and maybe rainy December day, how wonderful it would be to open to a bagful of delights? You know the trick ... click on the photo!
This is why I chose the colourful fabrics. I felt so accomplished with the completion of the lining for this bag. There was not much sewing involved, mainly the zipper, because I opted for the easy way out.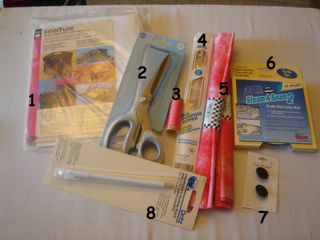 A trip to JoAnn and I came home with tools I needed for the lining:
1. InnerFuse for a more sturdy base for the bag
2. 8.5" dressmaker's scissors (I didn't think the multipurpose scissors I have at home can do the job properly!)
3. Gutermann sewing thread in matching colour (just in case the non-sewing method didn't work)
4. 9" zipper
5. Fabrics (89 cents a piece ... they are having a sale!)
6. Steam-A-Seam 2 Double Stick Fusible Web
7. Buttons
8. Dressmaker's chalk pencil (I intended to get the yellow chalk my mom used to use but they only have this chalk pencil ... which I found to be useless. I ended up using ordinary pencil marking on the wrong side of the fabrics!)
Step-by-Step Assembling
:
1. Use some waste paper to cut out the templates for the various pieces of the bag lining. You have to measure accurately to make sure the sides match. I made the lining measurements just a little bit smaller than the bag.
2. Then, use the templates to cut out the fabrics, with 1 cm hem around for the fusible web.
3. Make a sandwish of fabric (wrong side up), InnerFuse and fabric (right side up). Follow the instructions on the InnerFuse package and you'll have a good sturdy base for the bag. After ironing, trim the edges.
4. Now, the various pieces are ready for assembling using the fusible web, which works quite well.
5. You can even use the fusible web to join the zipper to the lining, which is okay because you'll sew the zipper (plus the fabric) to the bag later.
To make sure I sew the zipper properly, I used some safety pins to steady the position. This also made the sewing easier.
Afterwards, I added the button and made a 3" i-cord for closure. With the handle added, the bag is done!
Yarn: Rowan Magpie Aran Col: Dapple
Pattern: Three for the Road from
Bags - A Knitter's Dozen
(Check their website for errata!)
Needle: US7