Remember the ugly holes because of the M1 stitch in the seed stitch panels of faye? Here is a close-up: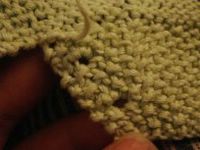 I don't think I would wear the vest happily with the holes there. While weaving in the loose ends, I got inspired to mend the holes:
I was pleasantly surprised how well this turned out:
This is the wrong side of the vest ... almost no trace of the holes at all! Neat!