For me, almost! I made two more much better ones, one using the merino wool from
Inspirations Yarn
(super soft ... I highly recommend it and the colourways are gorgeous too!) and the other Rowan's Magpie Aran.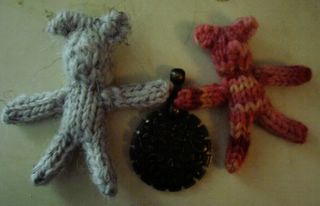 I haven't put the eyes and noses yet. Eyes are the windows to the soul. I want them to have beautiful souls this time ... so I'll go cautiously! I am happy with them so far. The small bear will become a keychain and the bigger one will become a pin. I think these would be nice accessories for a 10-year-old.
Oh, BTW, the bears in the first picture were leaning against an article on short row shoulder shaping from Knitty. If you are a newbie to short row like me, you may want to have a look at
it
.