First and foremost, some pictures: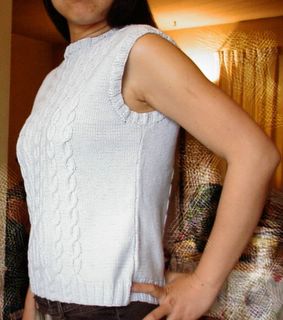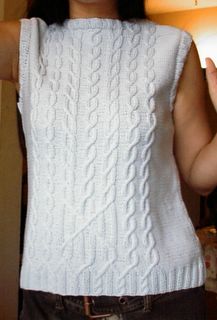 While taking the pictures, I suddenly felt naughty and imitated
Becky
's
rabbit dance
. I just had to move a bit because today's weather is certainly not good for wearing a cotton sleeveless tank ... it's windy and rainy and I was just freezing!
Details
:
Yarn
: Filatura Di Crosa Mirto Col: 11 Icy Blue
I got the yarns from Elann originally for
another project
... which didn't quite work out for me. This is my first cotton project and I think I've come to understand this fiber a little bit more. Most cotton yarns split like hell ... but
Diana
said that Rowan 4-ply cotton doesn't split at all. I've worked with Cotton Glace and it doesn't split either. Maybe Rowan has a secret with their cotton! Also, it was a bit disheartening to find that the pieces felt so floppy after being soaked through in water. I actually wondered if I was going to wear that! However, after being dried flat, the texture of the pieces improved a lot ... even better than when they were just knitted. So, patience is a must with cotton.
Gauge and size
: The gauge in the originally pattern is 24 stitches + 30 rows = 4". My gague is 26 stitches ... forgot the row gauge. So, I chose to knit the 39" bust size and the acutal
sewn up
bust measures 35". (
Kathy
was right, you have to disclose your measurements sooner or later if you keep a knitting blog!)
The Pattern
: It was from VK Spring/Summer 2005 Pattern 14. I just discovered that the designer was Kathy Zimmermann ... is she related to Elizabeth Zimmermann? The pattern is basically very straightforward and easy to follow. There is a chart for the cable pattern. Given the bad reputation of VK in pattern correctness, I was lucky that there is only one minor mistake in the chart (the cable twist in Row 12 should belong to Row 11) and common sense can help.
Since the neck felt a little bit tight already before the neckband, I used the larger needle for the neckband and the smaller needle to bind off. I would like the armholes to be tighter, so I used the smaller needle to knit the armhole bands. It took me quite some time to figure out the even distribution of stitches to pick up around the neck and armholes.
I am so happy that this project is finally done. During the process, I learned a lot ... combined knitting, short row shoulder shaping, cabling without needle (BTW, I still have to look for my cable needle!) ... and the FO fits! The weather forecast says that Friday would be a sunny day ... it would be my Cabled Vest's debut day too!